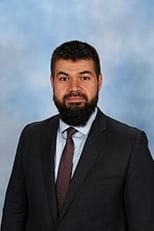 Ali Arabaci commenced his teaching career at Irfan College in 2013 as the Qur'an teacher. Ali has taught various subjects including Islamic Studies and Personal, Development and Health, and was serving as the Well-being Coordinator prior to assuming the Principal's position in Term 3, 2016.
Ali has a Bachelor of Arts majoring in English Literature and a Master of Teaching specialising in Secondary. Ali is currently enrolled in a Master of Education course researching the topic 'Curriculum Models in Faith-based Schools in An Australian Context'.
Ali has a passion for community work, an interest in learning Classical Arabic, Theology and Philosophy, and is responsible for vision, strategy, staff and students at Irfan College.